11th Arctic Shipping Summit
November 29, 2017

-

November 30, 2017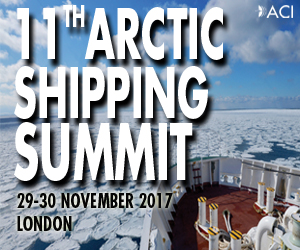 The two day conference will consist of a number of informative presentations followed by interactive Q&A discussions. The latest changes in regulations will be discussed in detail, as well as technological advancements and guidelines for insurance and the development of support infrastructure for safe and effective Arctic cargo transport. There will also be a particular focus on the promising sector of Arctic cruises, with discussion of several potential avenues for future commercial successes in Polar waters.
Speakers include:
– Sandra Rita Allnutt, Head – Marine Technology and GBSH, IMO
– Michael Emerson, Director for Marine Transportation Systems and Senior Arctic Policy Advisor,
United States Coast Guard
– Julie Gascon, Assistant Commissioner, Canadian Coast Guard
– YakovAntonov, First Deputy General Director, Murmansk Shipping Company
– Petter Meier, Deputy Director General, Norwegian Ministry of Transport and Communications
– Donald Roussel, Associate Assistant Deputy Minister, Transport Canada
– Dwayne Menezes, Director, Polar Research and Policy Initiative
– Halldor Johannsson, Executive Director, Arctic Portal
– JarkkoToivola, Director/Vice President, AlfonsHakans
– Marco Graziotto, Director, Arctic Bulk
– Tim Reilly, CEO, Arctic Advisory Group
– Bjørn-Morten Batalden, Associate Professor-Maritime Operations, The Arctic University Of Norway
– TordYtterdahl, Managing Director, Viking Ice Consultancy
– Stein Sandven, Project Leader-INTAROS, Nansen Environmental and Remote Sensing Center
– MikaaMered, Adjunct Lecturer on Arctic Economics, Lapland University of Applied Sciences
– James Pass, Senior Managing Director, Guggenheim Partners
– Peter Tsantrizos, President & CEO,Terragon Environmental Technologies
– Nick Hughes, Leader of the Ice Service, Norwegian Meteorological Institute
– Paul Wilkinson, Solicitor, GorrissenFederspiel
Click here to view the agenda.
For more information & registration, contact person: Mohammad Ahsan on +44 (0) 203 141 0606 or email: mahsan@acieu.net